roots of assagai's rock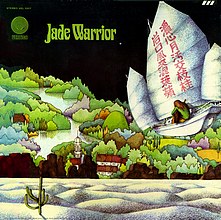 Jade Warrior: Telephone Girl and Barazinbar
From Jade Warrior on Vertigo (1971) and Released on Vertigo (1971)
Oliver, I read your
advise
. I'll use divshare for the next post. Thanks for the add.
When they came out in London in the early 70s, many of black musicians were received by british rock scene. Fela Kuti worked with Ginger Baker near 1971. It's difficult to assure that the Jimi Hendrix's Jam 'Room Full of Mirrors' with guest percussionist Rocki Dzidzornu, or the Woodstock repetition - Diamonds in the Dust - are one of the first Afro-rock recording. But we can imagine that the Band-Aid project with Arthur Lee, Hendrix, Steve Winwood and African percusisionist Rebop was an official request. In 1970 Steve Winwood appeared on the Ginger Baker's Air Force [youtube] first album. This tune recall me Demon Fuzz. Anyway, Remi Kabaka, also known to have joined Steve Winwood and Abdul Lasisi Amao for the Third World project, played drums on Ginger Baker's Air Force.
Originally written by Jade Warrior, the tune 'Telephone Girl' introduce Assagai's first album. Heavy fuzzy sounds like a funky afro rock stuff. The instrumental 'Barazinbar' is a fifties minutes one which I think was extremely well arranged by Assagai. See the Captain Planet's post to listen 'Baranzinbar' covered by Assagai. All Jade Warrior's members are credited to the Assagai second album 'Zimbabwe'. Cover art was designed by Roger Dean, same designer for Osibisa and Budgie. Just see this interesting similitude between this both cover art Osibisa and Zimbabwe. I read on this site that Assagai was the only 'African band' signed by Vertigo. The site adds "Jade Warrior put together some demonstration material, shopped it around, and were signed to a record deal with Vertigo in 1970 or 1971. According to Glyn Havard, this signing was due in part to the fact they were being managed by Mother Mistro, the same company which was managing the "Afro-rock" band Assagai which was being actively pursued by Vertigo."
While Jade Warrior was recording his first album they met future Assagai's members Dudu Pukwana, Louis Moholo, Mongezi Feza and Fred Coker. They all came from avant-garde and afro-jazz scene. With the worlwide success of Osibisa first album, also recorded at Air Studios, London, and released in 1971, produced by Tony Visconti, the concept was to put together rock and afro-jazz stuff.